Tutoring program offers students second chance at success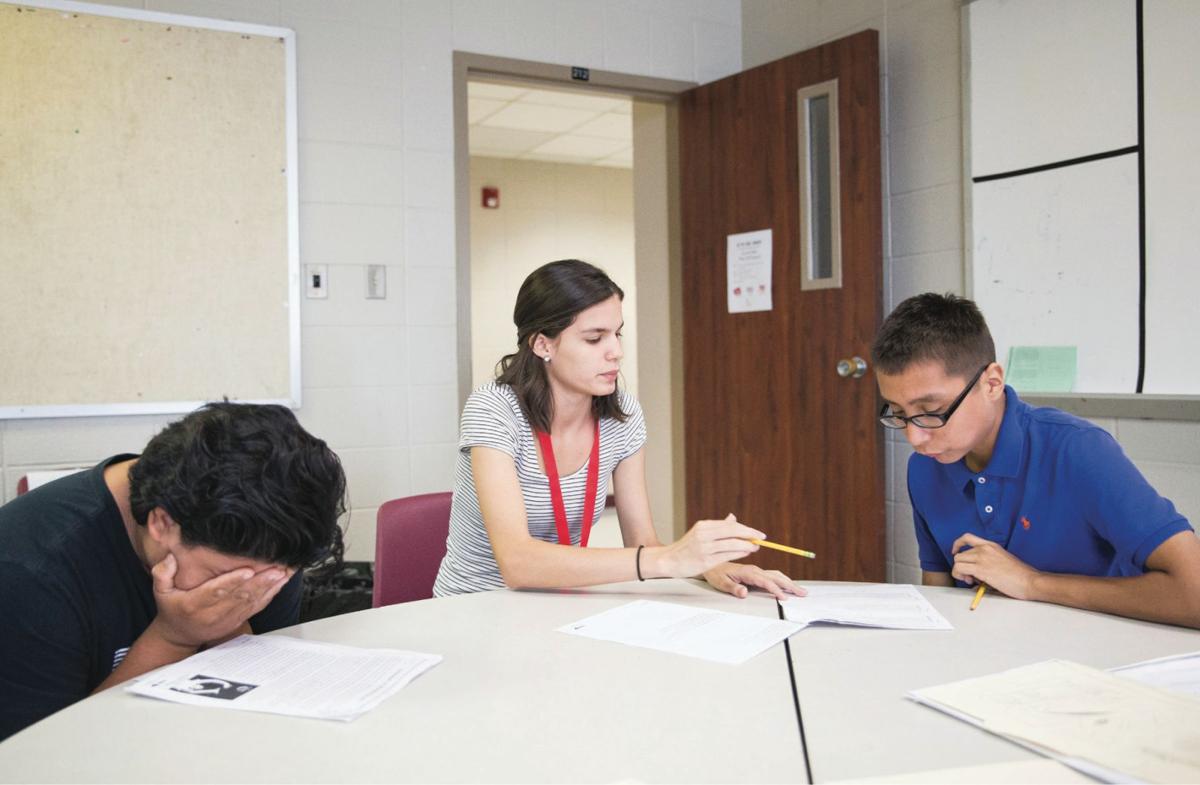 When Joe Flores went to the Mitchell Guidance Center in the school year, he returned to Patti Welder Middle School not knowing if he would be able to catch up on his schoolwork.
"I was being a brat," Joe, 14, said Monday. "But really and truly, this might help me."
The seventh-grader is one of 58 Communities in Schools students who are recovering course credits by attending summer school at the Patti Welder campus.
Communities in Schools' mission is to surround students with support and empower them to stay in school and achieve in life.
The number of students receiving tutoring has increased this summer, so the organization is looking for volunteers, said Victoria Brieske, site coordinator for C.I.S.
Joe has gone to sessions since June when summer school began. He was assigned to go to the tutoring sessions by Communities in Schools.
Practice in reading packets, strategies and correcting worksheets are some of the activities that have helped him learn.
"I want to bring up my low grades," Flores said.
Another student seeking to do the same was Maggie Lemons, eighth-grader at Stroman Middle School.
Maggie said a challenge during the school year was paying attention and coping with hearing difficulties in a rowdy classroom environment.
"At first I was passing; then I started falling behind little by little," Maggie, 13, said.
The eighth-grader's difficulties in algebra led her to summer school, she said.
Maggie found a sense of self-growth from attending the CIS tutoring sessions.
"I would be failing summer school without this," she said. "It's been a great opportunity that's helped me a lot."
Becoming a ninth-grader at Victoria East High School is something she sees in her future.
"I am most looking forward to sports, softball," Maggie said. "My classes will be challenging, but I feel more prepared."
The final day of middle school summer school was Friday, but learning continued at Victoria East High School, where about 35 of the program's students are enrolled in summer school.
Kane Gonzales, 10-grader at Victoria West High School, is recovering credits in order to advance to the next grade.
Algebra and English were subjects the 17-year-old typically struggled with, he said.
"Before, it was difficult," Kane said. He has progressed by working one-on-one with the tutors.
"I hope to succeed, so I won't have to go through all that much next year," he said.
Student progress is monitored throughout the summer, Brieske said.
"It helps those afraid to ask questions gain self-confidence," Brieske said.
Texas State University student Katie Molina, of Edna, strives to go beyond tutoring lessons when volunteering.
"I like showing them their potential; sometimes they just need that extra push," Molina, 22, said. "Knowledge is something no one can take away from you."